Bismarck:
Raiding St. Nazaire, Part Two
By David Lippman
April 2015
After studying moon and tides, an attack date was selected: 11:30 p.m. on March 27, and the plan was given a code name, "Operation Chariot."
All that remained now was to assemble and train a force to carry it out. First, someone to lead the raid. That was giving to Commander Robert E.D. Ryder, known as "Red" for his initials, aged 34, dark-haired, clean-featured, and freshly married. He had considerable small-ship experience from sailing a ketch from Hong Kong to England and serving on a schooner in a 1930s Antarctic expedition. But earlier in the war, he had suffered the indignity and embarrassment of losing his new command, a landing craft carrier, when she was rammed in a thick fog. The Admiralty blamed him, and he was now sailing a desk and fretting for action.
Someone on Mountbatten's staff remembered his pre-war record, and Ryder was brusquely summoned to Richmond Terrace on February 26. There Mountbatten outlined the operation to Ryder and assorted staff members without naming the target, and simply said, "The Naval Force Commander appointed for this operation is Commander R.E.D. Ryder. That all right with you, Ryder?"
"Certainly, sir," Ryder answered, still not knowing the target. He was given a month to prepare the operation, without being given a staff, office, or typewriter. Yet he had great intelligence and strong character, which enabled him to overcome the obstacle.

Campbeltown in U.S. Navy service as USS Buchanan, 1936.
As for the ground troops, obviously the increasingly famous British Army Commandos, with their hardy physique, tough training, skill in using explosives, and great initiative would be used. A 90-man force was selected from 1st, 3rd, 4th, 5th, 6th, 9th, and 12th Commando Battalions to serve as demolition squads, under Capt. Robert Montgomery, while 100 men of 2nd Commando would provide the escorts and cover for the demolition teams. With 2nd Commando providing such a major role, it seemed logical to put the battalion's CO, Col. Charles Newman, in command of the ground forces.
Newman had 16 years as a Territorial under his belt and was a peacetime civil engineering contractor. He had a better introduction to the operation than Ryder – he was given the St. Nazaire intelligence file and told by his CO, Brig. Charles Haydon, "This is by far the biggest job yet attempted by the Commandos."
Now for the floating bombshell. The Admiralty was reluctant to write off one of their own destroyers, and suggested the Free French Ouragan, which was being used as a barracks ship. Because of its French origin, it could slip past German defenses disguised as a sister ship in Vichy service. But that would require at least half the invaders being French, and there was no time to bring them in and bridge the language barrier.
The Admiralty finally agreed to part with HMS Campbeltown, one of the 50 legendary destroyers the U.S. Navy had provided to Britain in return for western hemisphere bases in 1940. As USS Buchanan, Campbeltown had led an honorable if un-extraordinary career in the 1920s and 1930s. As Campbeltown, she had collided with two ships, sinking one, been loaned to the Royal Netherlands Navy, served on convoy escorts, and picked up survivors from the damaged Norwegian motor tanker Vinga on September 15, 1941. But she was obsolete by the standards of 1942, unable to fire her forward five-inch gun in rough seas or at top speed, and handled badly.
With that decision made, Campbeltown was ordered on March 10th to Devonport for a massive makeover that only took only nine days.
Now the British could get down to work. Royal Engineer Captains Bill Pritchard and Montgomery, both friends, were put in charge of working out how to destroy the various targets. Pritchard was an expert on explosives and Montgomery had actually been in St. Nazaire during the British evacuation in June 1940. They recommended specialized "sausage" charges to be wrapped around the winding and pumping house pipes that would explode inwards, "clams" for attacking ships, "limpets" to blast open doors, cordtex detonators, safety fuses, and "wreath" charges, which looked like a car's steering wheel, fixed with magnets, to be placed against the North Caisson, to rip holes in them.
Motor launches were assigned from three flotillas of Coastal Forces to carry the Commandos to St. Nazaire, each measuring 112 feet by 19 feet 6 inches, powered by two 650-horsepower Hall-Scott engines. They could crack the waves at a snappy 18 knots, were armed with Oerlikon 20mm guns and Lewis machine-guns. Four were equipped with torpedoes. Their big weakness: exposed fuel tanks.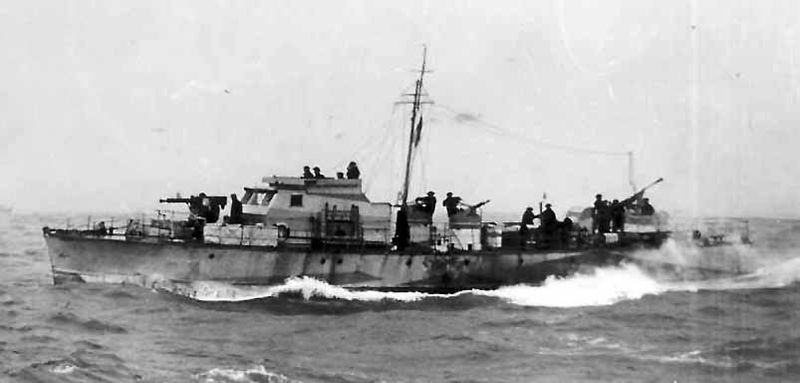 Motor Gun Boat 314
Ryder and Newman would sail in Motor Gunboat 314, which would act as seaborne headquarters. MGB 314 was armed with two powerful 2-pounder (40mm) guns, a radar set, and echo-sounder, making her appropriate to lead a force up the Loire by night: her electronics would scan for both hostile ships and mud flats that could ground Campbeltown. Her skipper was Lt. Dunstan M.C. Curtis, an Etonian with a red-gold beard and a record of running Allied agents to and from the French coast by night.
MGB 314 and MTB 74 would be towed near the target by two escorting destroyers, Atherstone and Tynedale. They would wait offshore while the force penetrated the estuary by night in two columns, Campbeltown in the middle. The ships would fly Nazi flags and flash German signals to try to fool the enemy, and then drop them at the last minute, to comply with international conventions.
To further distract the Germans, the RAF was to bomb St. Nazaire, but their bombers were ordered to fly in over the town one at a time, to avoid hitting the British force.
The force assembled at Falmouth on March 13th, with the Commandos forming up on the landing ship Princess Josephine Charlotte, which functioned as a barracks. To maintain secrecy, Ryder's team was called the 10th Anti-Submarine Striking Force, with a nominal mission of long-range anti-submarine sweeps. To add to the cover, Ryder ordered all vessels fully stored and equipped, as if for a long voyage, and openly ordered tropical kit.
On March 18th, Newman briefed his Commandos on the operation, without telling then the name of the port. "You have been selected for a really lovely job," he said. "You could say it is the sauciest job since Drake."
After that, he explained the plan, finalizing some details. Pritchard would be in charge of most demolitions, except for blasting the North Caisson, winding and pumping houses, which would be Montgomery's job. Noting that the attack would go in by night, Newman told his men to make sure their faces were clean, not blackened, all web equipment scrubbed white, and everyone carrying a blue flashlight, to avoid being confused with the Germans. The Commandos would also wear the new rubber boots, which were much quieter than the German jackboots, and their password would be "War Weapons Week," with the response "Weymouth." That would twist most Teutonic tongues.
The Commandos plunged into serious training, studying maps and plans, cleaning weapons, and undertaking Exercise Vivid on March 22nd, a fake raid on Devonport. Demolition teams learned to place their charges around the winding and pumping house machinery of the King George V Dock, ultimately doing so blindfolded.
Next day, Ryder briefed the naval crews on their side of the operation, and gave the departure date: Friday, March 27th, with the attack going in at 1:30 a.m. on the 29th.
On March 25th, Campbeltown steamed into Falmouth, fresh from Devonport, presenting an astonishing appearance. Gone were her two aft funnels, and the forward funnels had been raked. She now bore a resemblance to the German torpedo boats operating in the area at the time.
Her five-inch guns, torpedo tubes, depth charge launchers, ammunition, and much of her upper works had been removed to lighten her, and replaced with an armored bridge that could conceal Commandos. Small Oerlikon AA guns and a 12-pounder gun were her new armament. Below her forward decks Royal Navy Lt. Nigel Tibbits had placed 24 Mark VII depth-charges, all linked by cordtex fuses. The depth-charges could be set on eight-hour delay for simultaneous explosion.
With so much removed from her hull, she now had a 10-foot draft – excellent for the Loire Estuary – but handled worse than ever. Ryder wasn't sure her incumbent skipper, Lord Teynham, a retiree called back into active service, could tackle the assignment. Ryder asked for an active-service CO with destroyer experience and got Lt. Cdr. Sam Beattie, an old friend from training days and former shipmate. Tall, slender, black-bearded and blue-eyed, he had calm precision, steely nerves, and three children at home.
Visit St. Nazaire! Click here to order Bismarck right now!
David H. Lippman, an award-winning journalist and graduate of the New School for Social Research, has written many magazine articles about World War II. His new book, World War II Plus 75, is now available. We're pleased to add his work to our Daily Content.