Sinai-Palestine:
Designer's Preview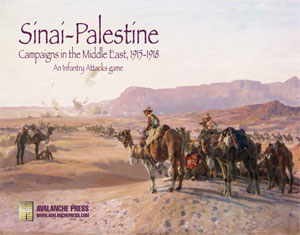 Some years ago, we announced a new Infantry Attacks game called Lawrence of Arabia. We're not going to be making that game; instead we've replaced it with another one that's more tightly focused on the Sinai and Palestine campaigns and fits the history-rich storytelling format of the other games in the series (August 1914 Second Edition and Fall of Empires). We'll add an expansion book for the Arab Revolt (titled Arab Revolt) that includes some other fighting along the borders of the Ottoman Empire, and probably another one to carry on the campaigns through Judea, the Jordan Valley and into Syria.
Infantry Attacks: Sinai-Palestine follows the campaign from the Turkish offensive across the Sinai Peninsula in early 1915 through the Allied offensive leading to the fall of Jericho in early 1918. There are fifty scenarios, organized into six chapters that use the scenarios to unfold the story of the campaign. And then each chapter is wrapped up by a battle game that ties the scenarios together.
We originally brought out the first Infantry Attacks game, August 1914, in 2010. We replaced the series rules for its sister series Panzer Grenadier, in 2014 and after some thought, I decided that the rules for Infantry Attacks should have a similar upgrade.
Infantry Attacks, by the nature of the conflict simulated, is a simpler game system than Panzer Grenadier. In the basic game there are no aircraft or motor vehicles, though that changes with Sinai-Palestine, which includes the one platoon of British Mark I heavy tanks that took part in the unsuccessful Second Battle of Gaza.
Units are companies in Infantry Attacks, rather than platoons, so you can only put two of them in one hex instead of the three platoons of Panzer Grenadier. There aren't nearly as many support weapons, so you're going to be conducting a lot of infantry attacks (see what we did there?) with some machine guns to back them up (not nearly as many as you think you'll need) and artillery that's powerful but just not all that responsive (this being the First World War and all).
The Second Edition has altered artillery rules from the first (most of them revert to the original design), and most noticeably color play-aids like Panzer Grenadier's Fourth Edition. They're included in all of the new and second edition Infantry Attacks games.
In Sinai-Palestine, the action begins with the Turkish crossing of the Sinai desert, organized by Bavarian Col. Friedrich Kress von Kressenstein. The Turks failed to get across the Suez Canal or hold positions along its banks, and the British Empire forces (mostly Indian at first) re-captured most of Sinai over the following year. After the evacuation of Gallipoli in early 1916 both sides transferred the battle-hardened survivors to the Palestine front including the Australian/New Zealand ANZACs, with their Light Horse and Mounted Rifles now regaining their horses.
Ottoman resistance stiffened once the fighting crossed the Empire's border, and the Turks repelled two British attacks on Gaza, in March and April 1917. Stalemate settled in, but a new British commander, Edmund Allenby, brought new energy along with reinforcements. After months of preparation, including an overhaul of medical services to stamp out the diseases that had put so many Allied soldiers in hospital, Allenby unhinged the Turkish position by attacking its southern end at Beersheba in early November, and moved quickly to assault all of its strongpoints including Gaza.
A British attempt to mislead the German/Ottoman command by planting false battle plans in a dropped satchel, the work of Lt. Col. J.D. Belgrave (later claimed by noted fraudster Richard Meinertzhagen after Belgrave was killed in action), had little effect - the German command recognized the plans as fraudulent. But Allenby's careful preparations brought an Allied victory anyway.
With the former Ottoman front line disintegrating and falling back, Allenby pursued and captured Jerusalem in December 1917. After a pause for the winter rains, the ANZACs took Jericho in February, and that's where we wrap up our story for now. There'll be more to come.

Each of those stages of the campaign gets its own chapter, with historical background, scenarios that help advance the narrative as well, and then a battle game that ties the scenarios together. It makes for a game tightly tied to the story, and it's the sort of game I've always wanted us to produce at Avalanche Press. We've been using this format for the last few Panzer Grenadier games, and now all of the Infantry Attacks games as well (including the new edition of August 1914).
Sinai-Palestine includes a whole bunch of new pieces: 693 of them, die-cut and silky-smooth. It needs a lot of them because there are a lot of armies fighting for Palestine. The Allied side includes British, Indian, Australian and New Zealand forces, plus the legendary Bikaner Camel Corps. For the Central Powers, most troops are Ottoman Turks but they have a handful of Bedouin allies plus small German and Austro-Hungarian expeditionary forces.
While most of the troops are the usual infantry, cavalry and artillery, there are also camelry on both sides. The Turks have some pretty tough stormtroopers, while the Australians have their mounted Light Horse and the Kiwis their Mounted Rifles. The British, for their part, have a tank. Just one tank, but it is a first for Infantry Attacks.
The game has six map boards, the same geomorphic type as in the rest of the Infantry Attacks, Panzer Grenadier and Panzer Grenadier (Modern) series - maps from one series can be used alongside maps from the others. You get the expected desert terrain plus the Suez Canal.
Overall, I really like this package, especially in the story-arc format with lots of history and the battle games. The Infantry Attacks system works well with the many mobile battles featuring cavalry and camelry (and even a fight of camels against camels). There are also some pretty intense infantry battles, particularly Third Gaza with artillery preparation similar to that of the Western Front. And the game has Austrians in it, which is always a major selling point. Well, maybe not. But it's steeped in history, filled with great game play (and re-play) and it's a great addition to the series evn if I did design it myself.
Don't wait to put Sinai-Palestine on your game table! Join the Gold Club and find out how to get it before anyone else!
Sign up for our newsletter right here. Your info will never be sold or transferred; we'll just use it to update you on new games and new offers.
Mike Bennighof is president of Avalanche Press and holds a doctorate in history from Emory University. A Fulbright Scholar and NASA Journalist in Space finalist, he has published over 100 books, games and articles on historical subjects. He lives in Birmingham, Alabama with his wife, three children and his dog, Leopold.